Following an acclaimed successful tour in March 2018, please join us for another unique tour with a dynamic team of leaders in the mysterious and beautiful heart of Egypt.
Chris Dunn, author of: "The Giza Power Plant" and "Lost Technologies of Ancient Egypt" (now published in Arabic), will guide another group to examine the hard evidence that he discusses in both his books while holding discussions about reasonable, down-to-earth explanations for the anomalies and artifacts that are found throughout Egypt.
Since 1977, Chris had studied the incredible engineering and science of the Ancient pyramid builders, including their sophisticated use of sound. While crediting Sir William Flinders Petrie for his pioneering work in the 19th century, Chris has become world renowned for his practical engineering sense when describing advanced ancient stonework, including the symmetry and precision of the Ramses statues at Luxor, the boxes in the Serapeum and the Curved Stone at Abu Rawash Along with the exploration and examination of sophisticated stonework, this tour will also explore the advanced application of acoustics in the pyramids as well as the temples in the South.
Leading discussions on this topic is sound engineer Robert Vawter. Robert has spent a lifetime working with concert and theatrical sound systems in live venues large and small as well as recording studios. He also has a degree in Archaeology, and has spent decades studying ancient Egypt and the pyramids. In 1997, Robert mapped the frequencies found within the SenNeferU pyramid at Dashur, from which he composed "The SeNeferU Sequence". His work has been cited in numerous books, including "The Giza Power Plant".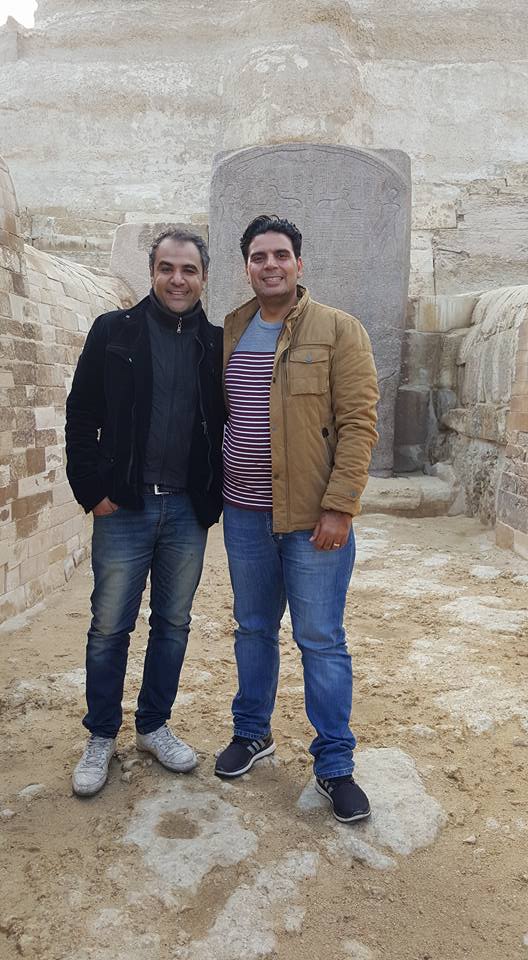 Facilitating and guiding this tour is well-known and charismatic Egyptian Egyptologist, Mohamed Ibrahim. Mohamed is one of a new breed of Egyptian Egyptologists who respects his roots and the education he received in university, but also accepts that there is much more to learn about his ancestors' technical accomplishments. Mohamed, who is an expert at reading hieroglyphs, will provide historical and cultural context throughout the tour.
We are also delighted and privileged to have Mohamed's colleague, Hamed El Gendy, join us in Cairo. Hamed is a graduate of Cairo University Archaeological program and holds a position with the Ministry of Antiquities following in the footsteps of Zahi Hawass as the Director of the Great Pyramid. He has recently overseen and facilitated the Scan Pyramid Mission that revealed additional chambers within the Great Pyramid using muography. Hamed will join us at Giza and provide an update on this latest research and other activities in the area.
It is this team's mission to provide travelers with a stimulating, educational and exciting experience. Each guest will receive a unique souvenir booklet that will provide each day's itinerary and photographs of select artifacts and sites to be visited. Throughout the tour, Mohamed, Chris and Robert will provide information on the sites being visited in accordance with their areas of study. This information will be provided either on site and/or on the bus. Evening PowerPoint presentations will be scheduled as circumstances and time allows. The booklet will include space for notes, so questions can be jotted down for later discussion or, as appropriate, on site.
This tour has limited capacity and we anticipate that it will fill quickly. As there is already a high level of interest, we encourage you to make your reservation soon. If you have any questions or concerns, please don't hesitate to contact us by email at losttechtouregypt@gmail.com
Day 1 (Sunday, March 3, 2019)
Cairo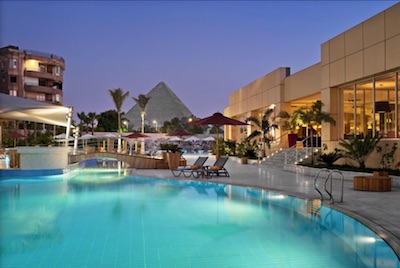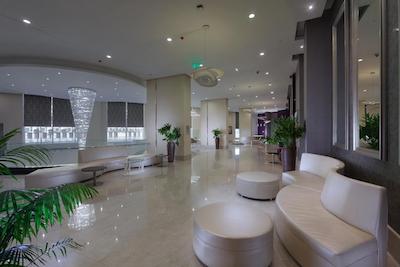 Our team will meet you upon arrival in Cairo - arrange for your visas and guide you through the airport and through immigration to collect baggage, and then to an air-conditioned modern coach for transfer to our five star hotel looking up at the awe-inspiring Pyramids on the Giza Plateau. At around 7:00 PM we will all meet in a conference room for introductions and distribution of materials to use during the tour. This will be followed by a welcome dinner.
Overnight Le Meridien Pyramids, Giza (D)
Day 2 (Monday, March 4, 2019)
The Pyramids of Giza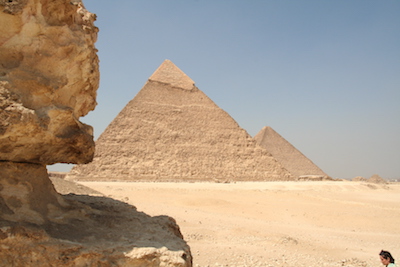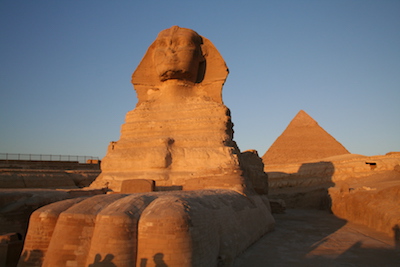 After breakfast we will visit the most famous monument in Egypt, The Great Pyramids of Giza. We will explore around the Great Pyramid and then drive to the Second Pyramid where we will visit the Mortuary Temple and Valley Temple. From inside the Valley Temple we will enter a short cut to the Sphinx. After lunch we will have the chance to visit one of the essential oils centers in the area.
Upon returning to Le Meridien Pyramids, after resting and an evening meal, we will meet in a conference room and have a joint lecture and discussion with Mohamed Ibrahim, Robert Vawter, Hamed El Gendy and Chris Dunn. As in our previous tour, guests will be encouraged to add to the discussion with questions and/or their own knowledge and expertise.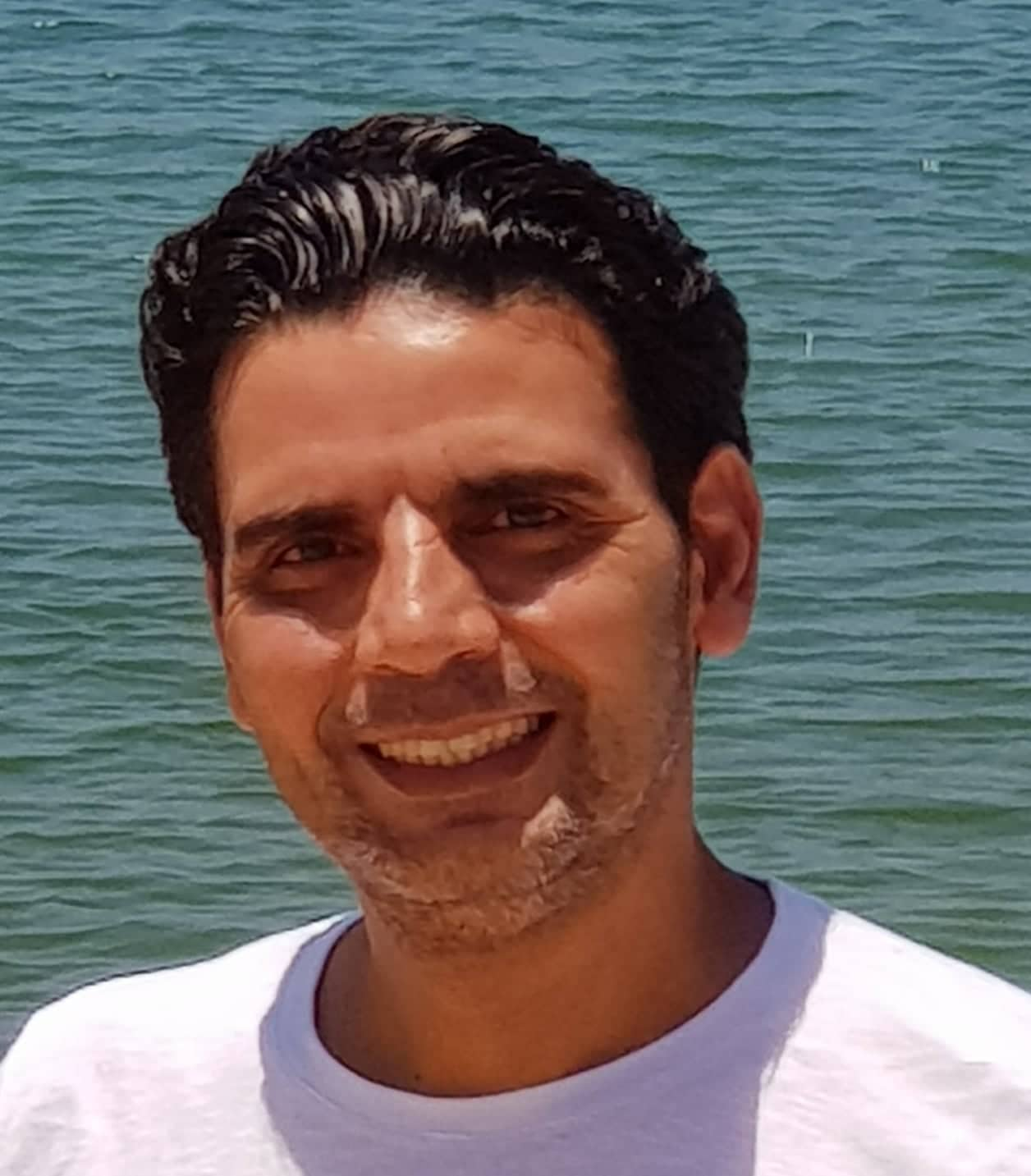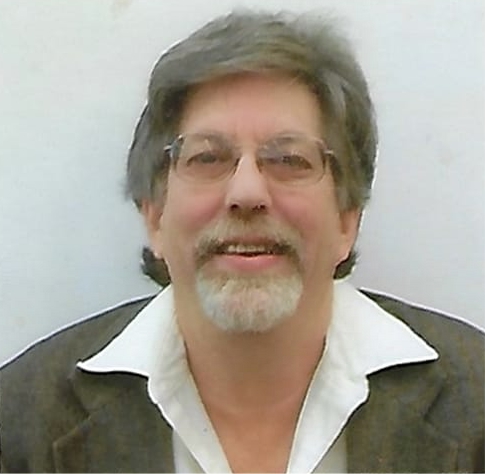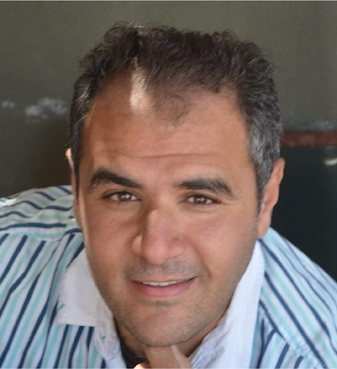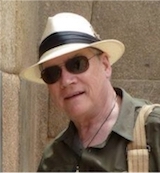 Overnight Le Meridien Pyramids, Giza (B, L)
Day 3  (Tuesday, March 5, 2018)
Tanis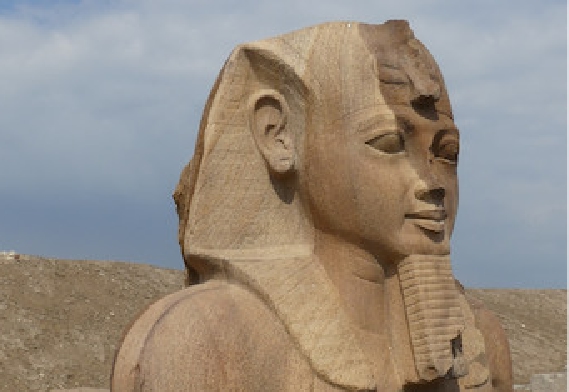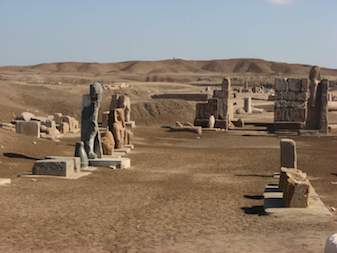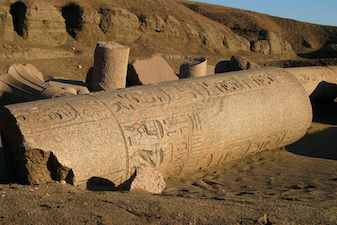 This morning we will board the motor coach after breakfast and drive to the north east of Egypt to visit two interesting and infrequently sites in Egypt, Tel Basta and the lost city of Tanis. These two sites are not being visited by many tourists, in spite of their beauty and importance, but we will explore them and explain everything about them. Tanis was a site used in the movie, Indiana Jones and the Raiders of the Lost Ark. Tel Basta is the city of Bastet (the cat) and there was a megalithic temple of her made entirely from granite, we will see a giant statue for Princess Meritamun.
Overnight Le Meridien Pyramids, Giza (B)
Day 4 (Wednesday, March 6, 2019)
Abu Rawash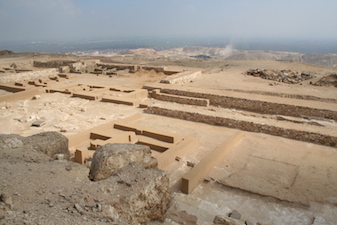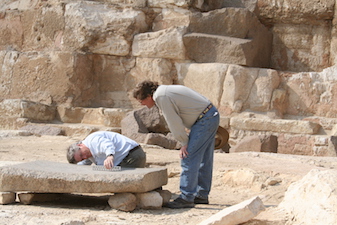 In the morning we have private permission to visit Abu Rawash Pyramid to see an artifact that has been named, the New Rosetta Stone. This artifact proves that Mega Machines were used in ancient Egypt.
After our visit to Abu Rawash, we will drive to Alexandria.
Overnight Alexandria Hotel (B L)
Day 5  (Thursday, March 7, 2019)
Alexandria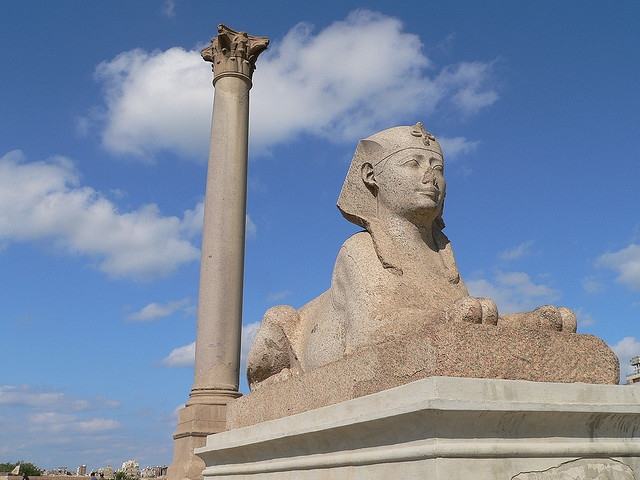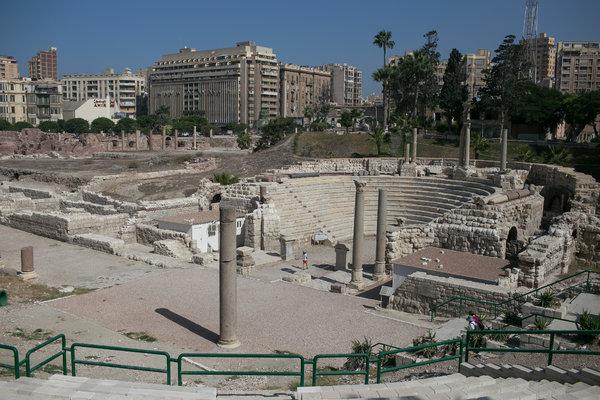 In ancient times, Alexandria was home to the famed Alexandria Library. We will visit many examples of Greek influence – by way of Catacombs Kom El Shoqafa, Pompey's Pillar, and the Roman Amphitheatre. We will enjoy a very delicious sea food meal before driving back to Cairo.
Overnight Marriot Mena House Hotel - Giza. (B L)
Day 6 (Friday, March 8, 2019)
Saqqara and Dahshur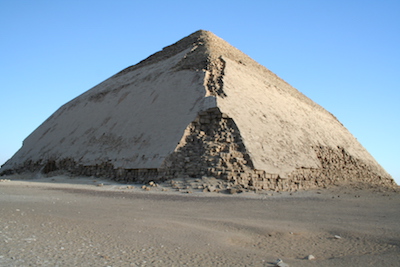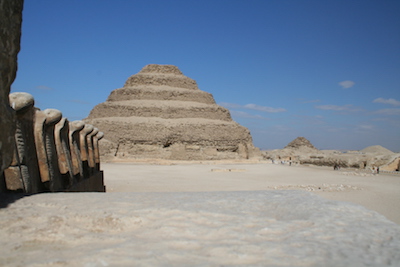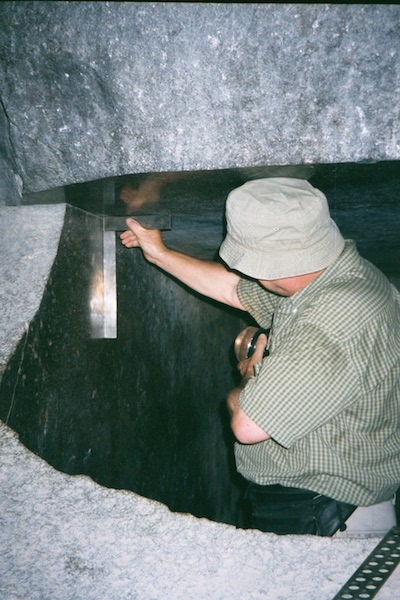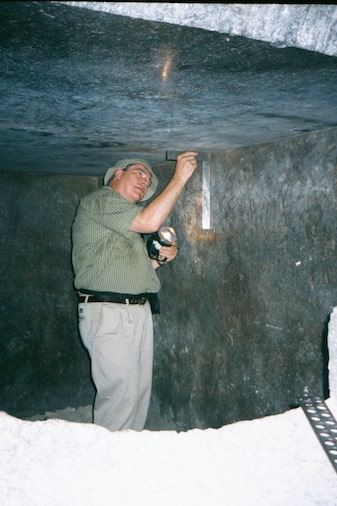 After breakfast we will drive to Dahshur, where we will experience the acoustic resonance in the Bent Pyramid and the Red Pyramid. Robert Vawter will describe his research into the resonant frequencies he discovered here which he used in his recording. Following this visit we will stop for lunch at the Sakkara Palm Club on our way to Saqqara, home of the Step Pyramid attributed to King Djoser. While at Saqqara we will have private access a profound and mysterious place that few people visit as it is closed to the public. We will also will visit the technological miracle of the Serapeum, a huge subterranean complex where Chris will explain why he refers to the massive boxes within it confines as a smoking gun of advanced technology.
Overnight Marriot Mena House Hotel - Giza. (B L)
Day 7  (Saturday, March 9, 2019)
Abydos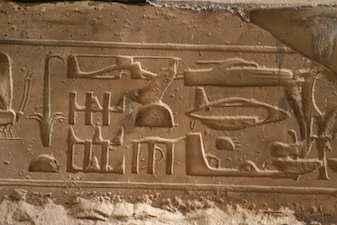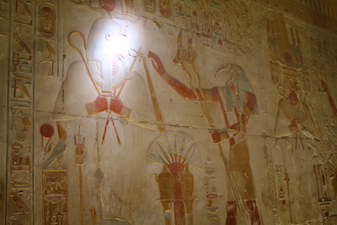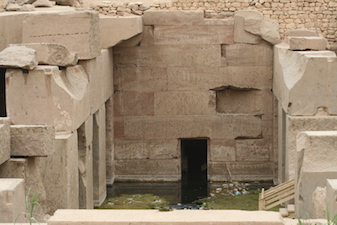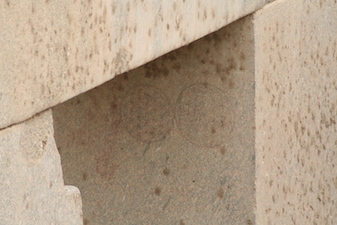 Following breakfast and a 50 minute flight to Sohag International Airport, we will take a short drive to the Temple of Abydos, a very important city for the Ancient Egyptians. It is where they used to do the pilgrimage every year and is the city of Osiris, the lord of the afterlife. While there we will go deeper into the temple and be drawn into bright sunshine and the confines of the famous Osirian - a remarkable subterranean structure that is built from massive precisely cut and fitted blocks of granite. Egyptologists think it is a memorial cenotaph to Osiris.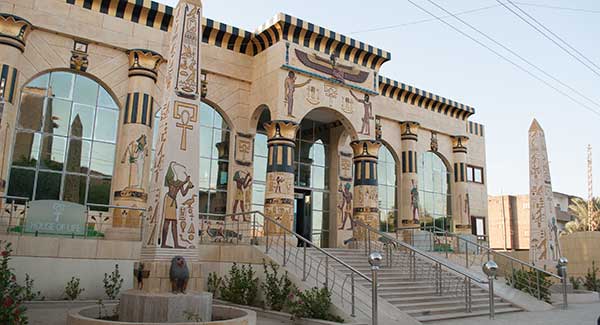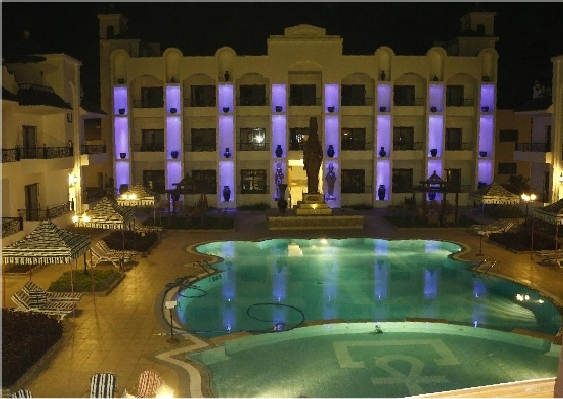 Following our visit, we will check into the House of Life Hotel, have lunch then enjoy free time for the rest of the day.
Overnight House of Life Hotel, Abydos (L, B)
Day 8 (Sunday, March 10, 2019)
The Temple of Hathor at Denderah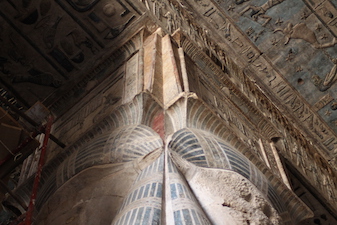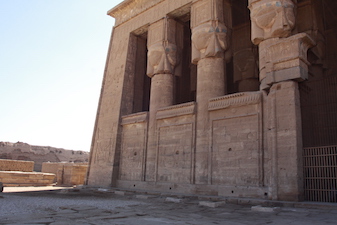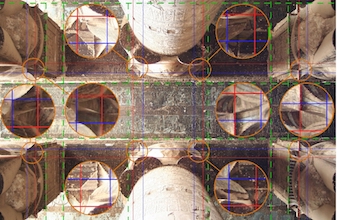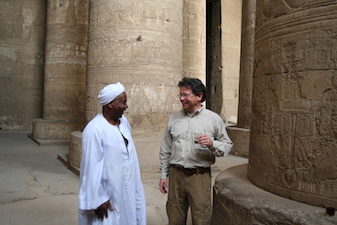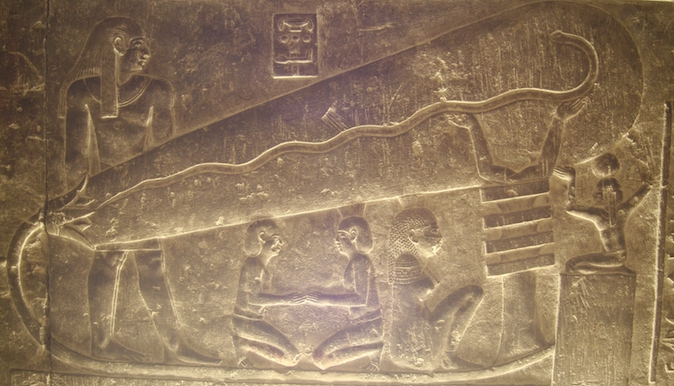 After breakfast and checking out of the hotel, we will visit the incredible Temple of Hathor at Denderah. Temple of Hathor was one of the main healing centers in Ancient Egypt. The carvings of the ceiling of Hathor temple according to scholars represent the cosmos. This structure sits like a jewel in the desert and displays extraordinary precision in its construction. Enjoy the intricate Star maps depicted on the ceilings and the colorful pantheon within the architraves in the magnificent Hypostyle Hall. Go deeper into the temple and find more amazing nooks and crannies waiting to reveal their mysteries. We will also be able to visit the famous subterranean Crypt, known for its plethora of bas-relief wall carvings, such as the "Denderah Lightbulb". Before, during and after this visit, Chris will explain more "hidden in plain sight" secrets of this amazing Temple.
After visiting Denderah, we will be transported to Luxor where we will check into the Steigenberger Nile Palace Hotel and have lunch by the Nile. Following lunch, for the rest of the day you are free to explore Luxor on your own. Take a carriage ride, shop, sail on a Feluca, and/or visit the Luxor Museum. For dinner you may choose among many fine local dining establishment that serve a variety of local and international cuisine.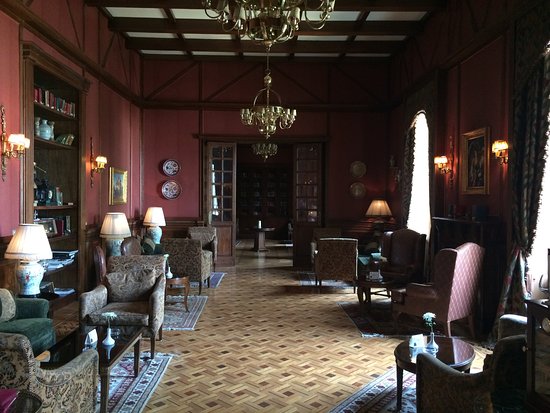 Perhaps you would like to follow the path of Howard Carter and have a drink in the Winter Palace bar. After working in the Valley of the King's, where he discovered the famous tomb of King Tutankhamun, Carter would meet his benefactor, Lord Carnarvon, here for drinks before dinner.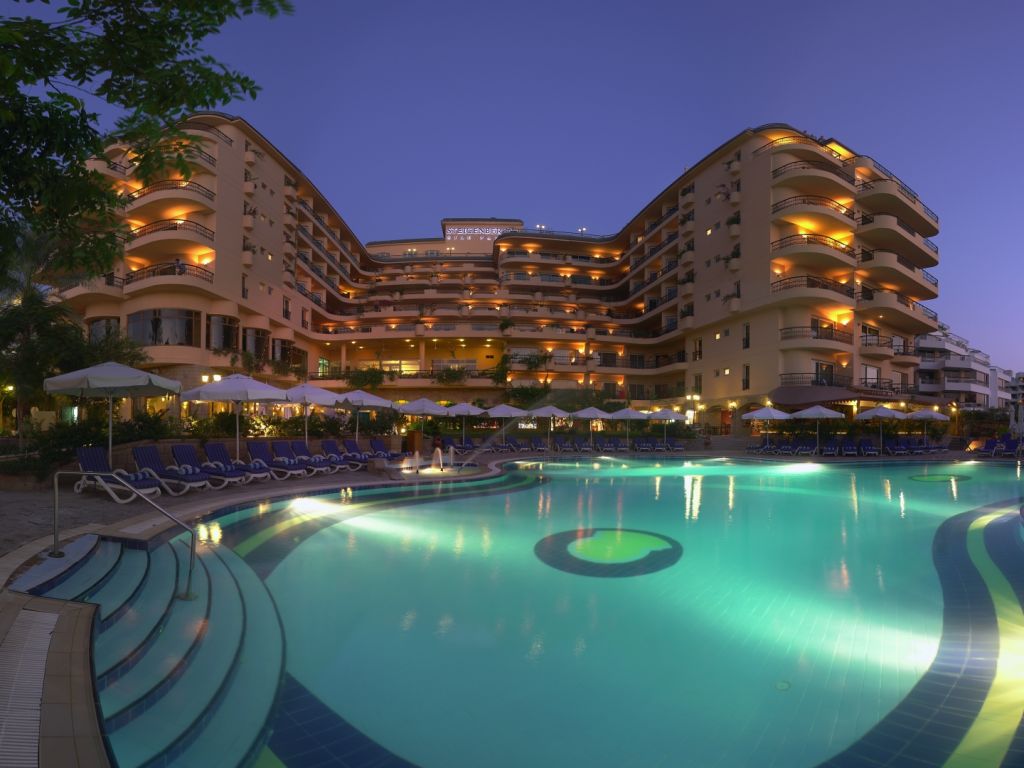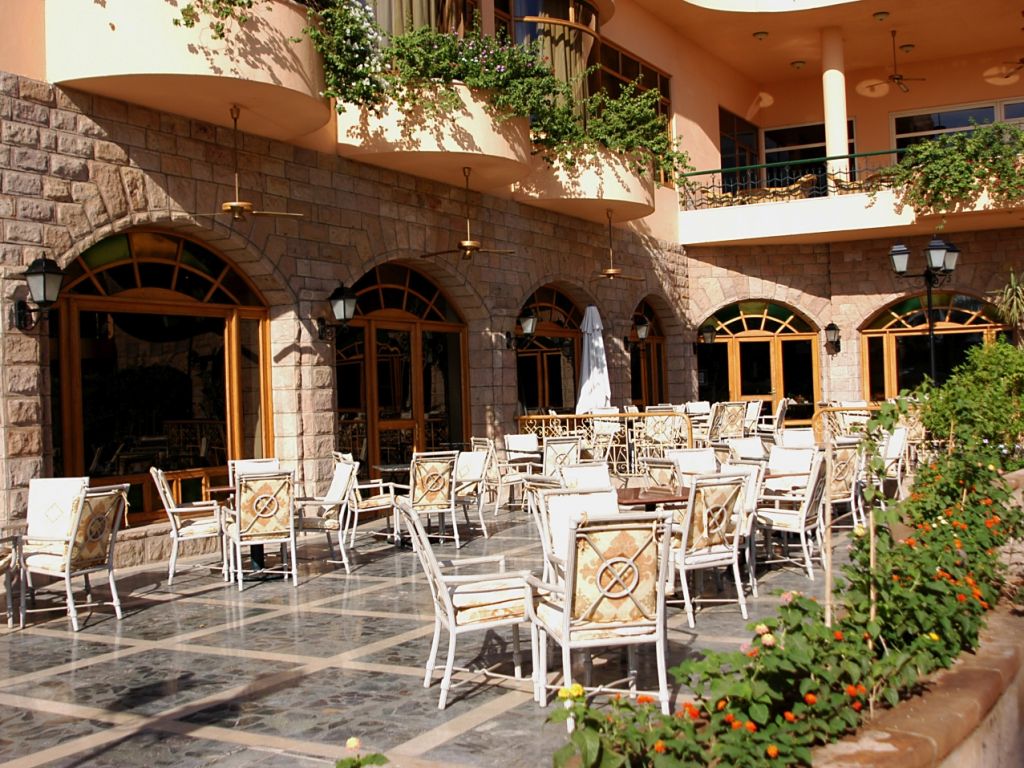 Overnight Steigenberger Nile Palace Hotel, Luxor (B)
Day 9 (Monday, March 11, 2019)
West Bank - Valley of the Kings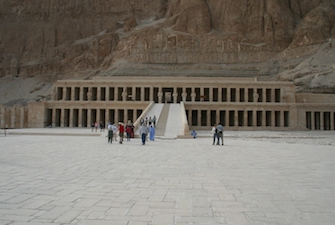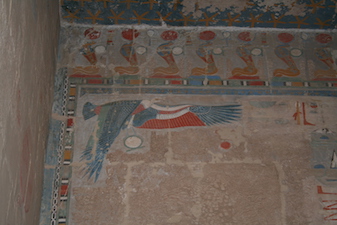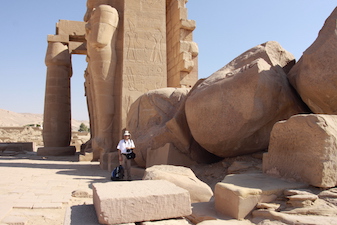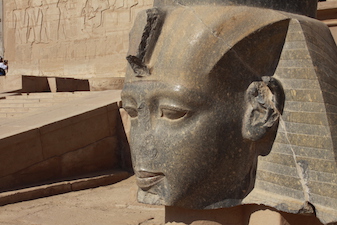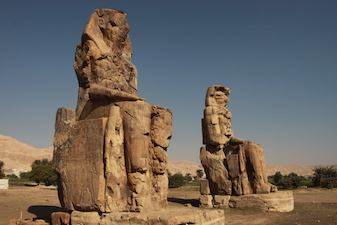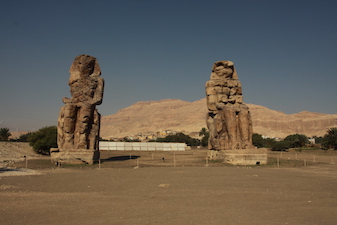 After breakfast, and check out, we will embark on our exploration of the sites on the West Bank including The Valley of the Kings, Hatshepsut's Temple, the Colossi of Memnon and the Ramesseum. Then we'll drive to the cruise ship, The Esmerelda, our floating palace on the Nile where we will be assigned our berths, have lunch and relax.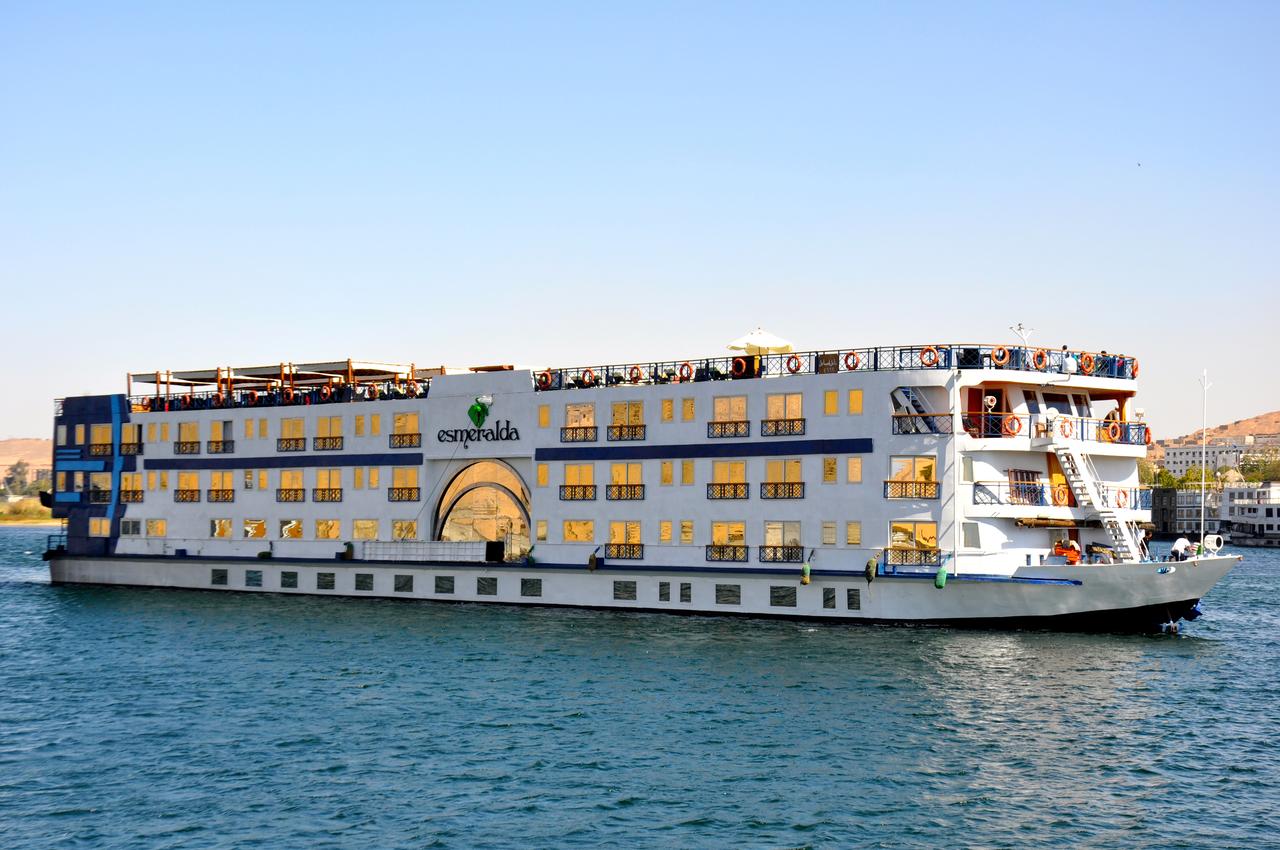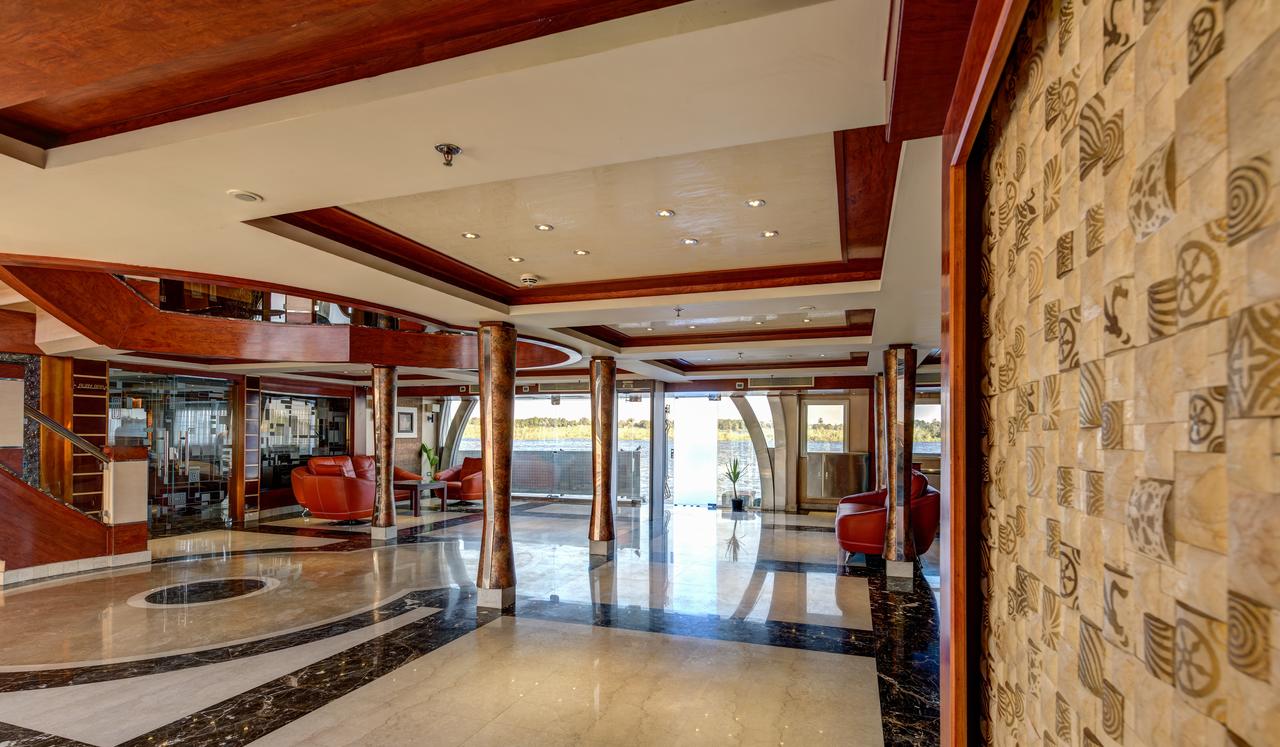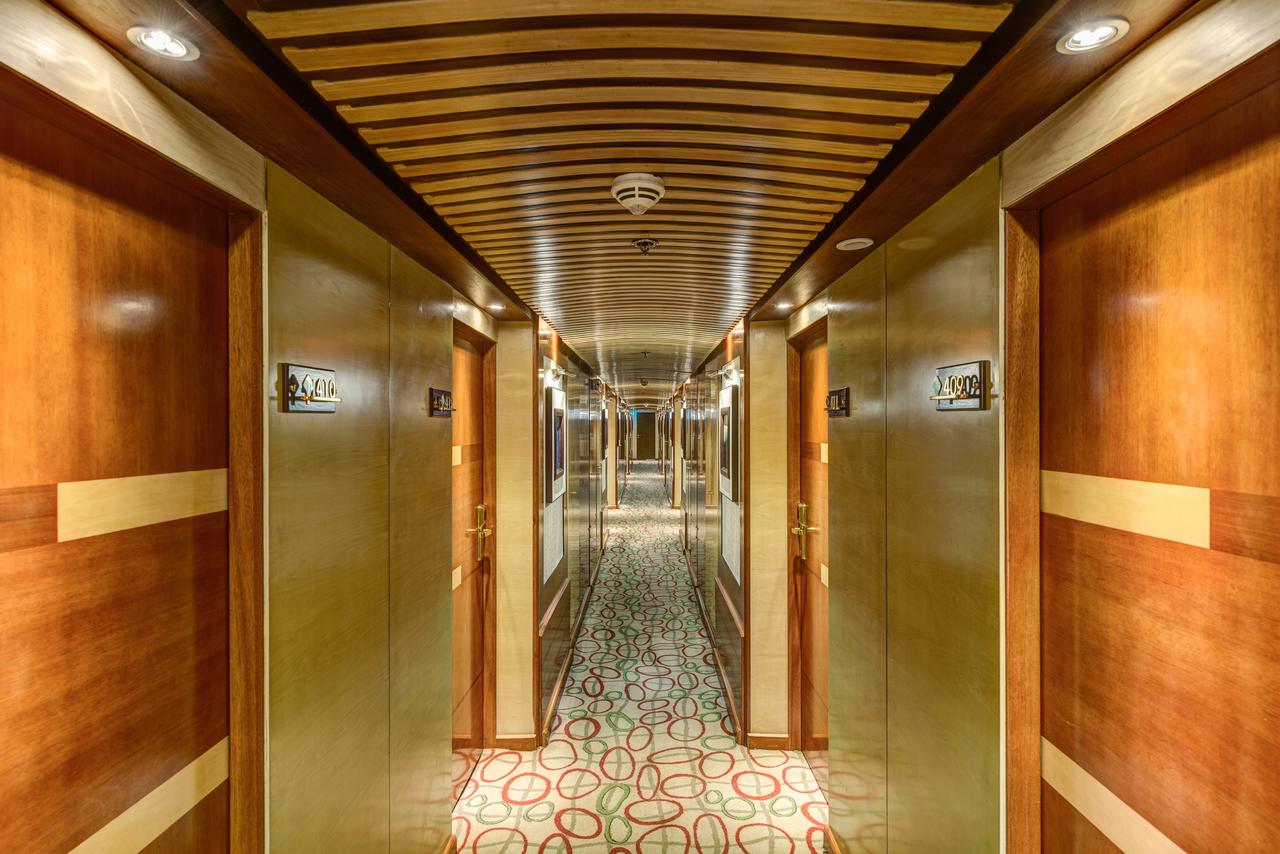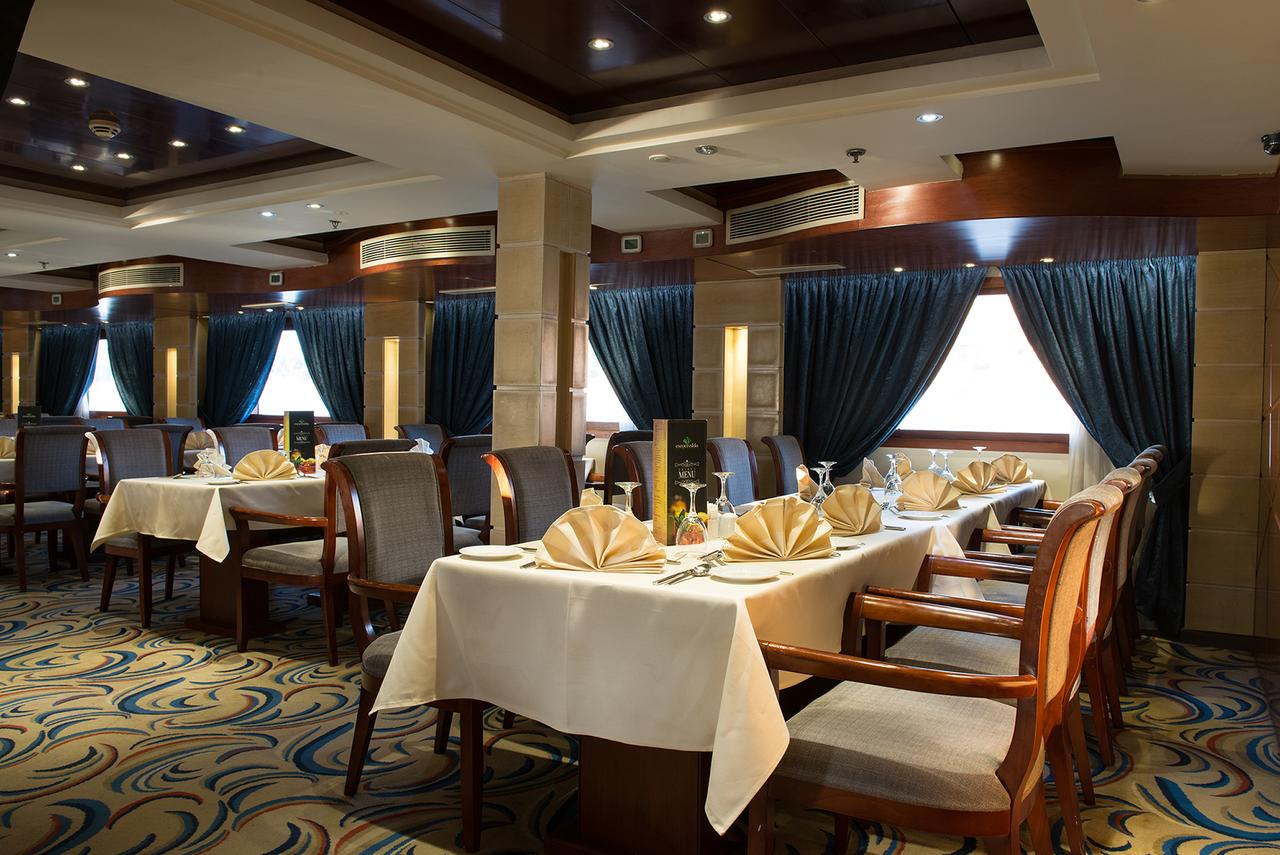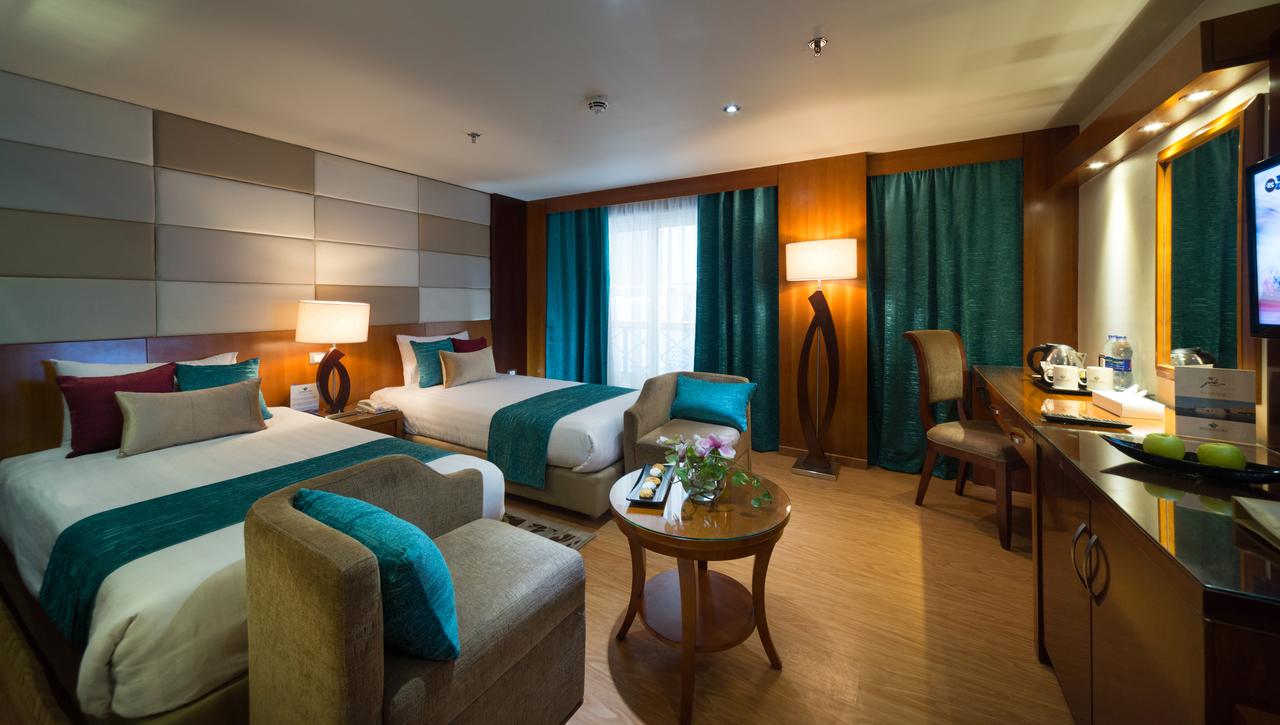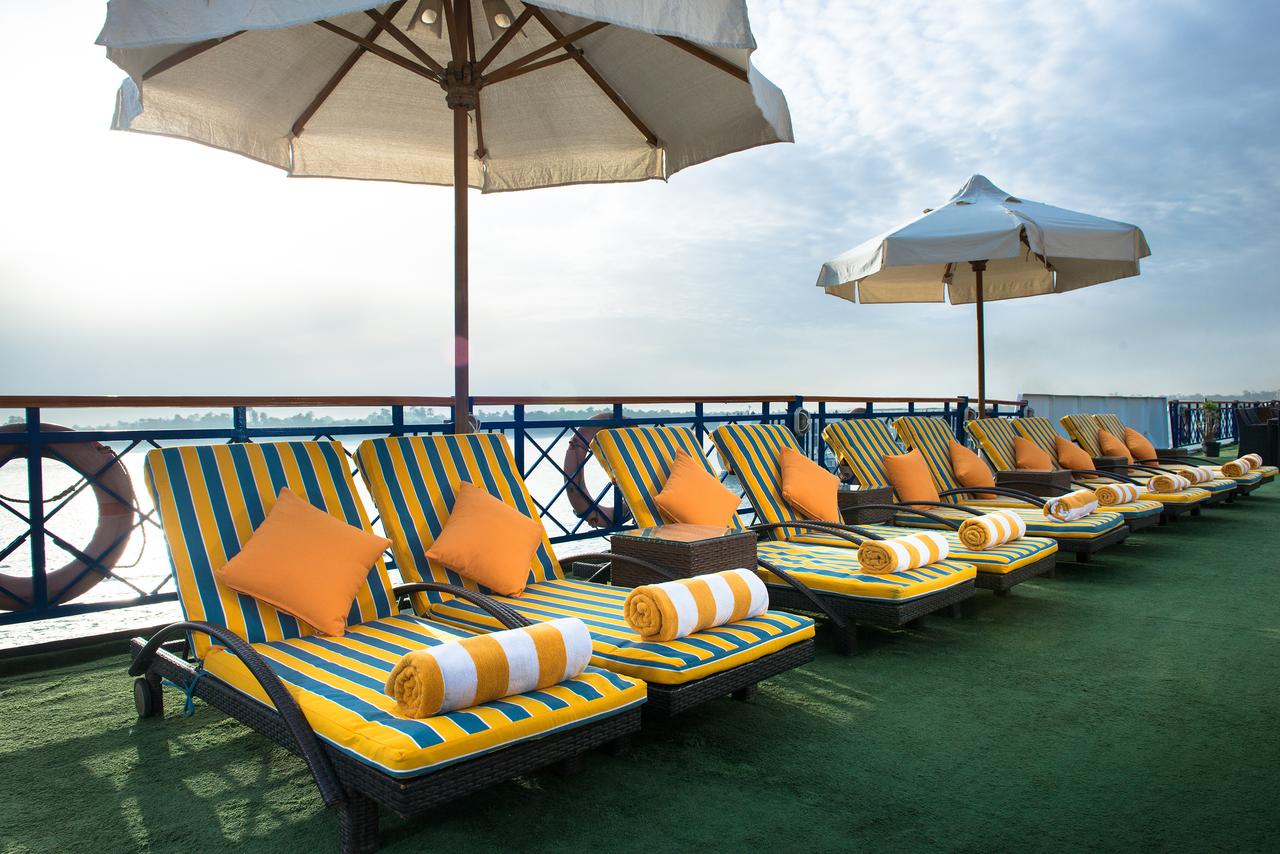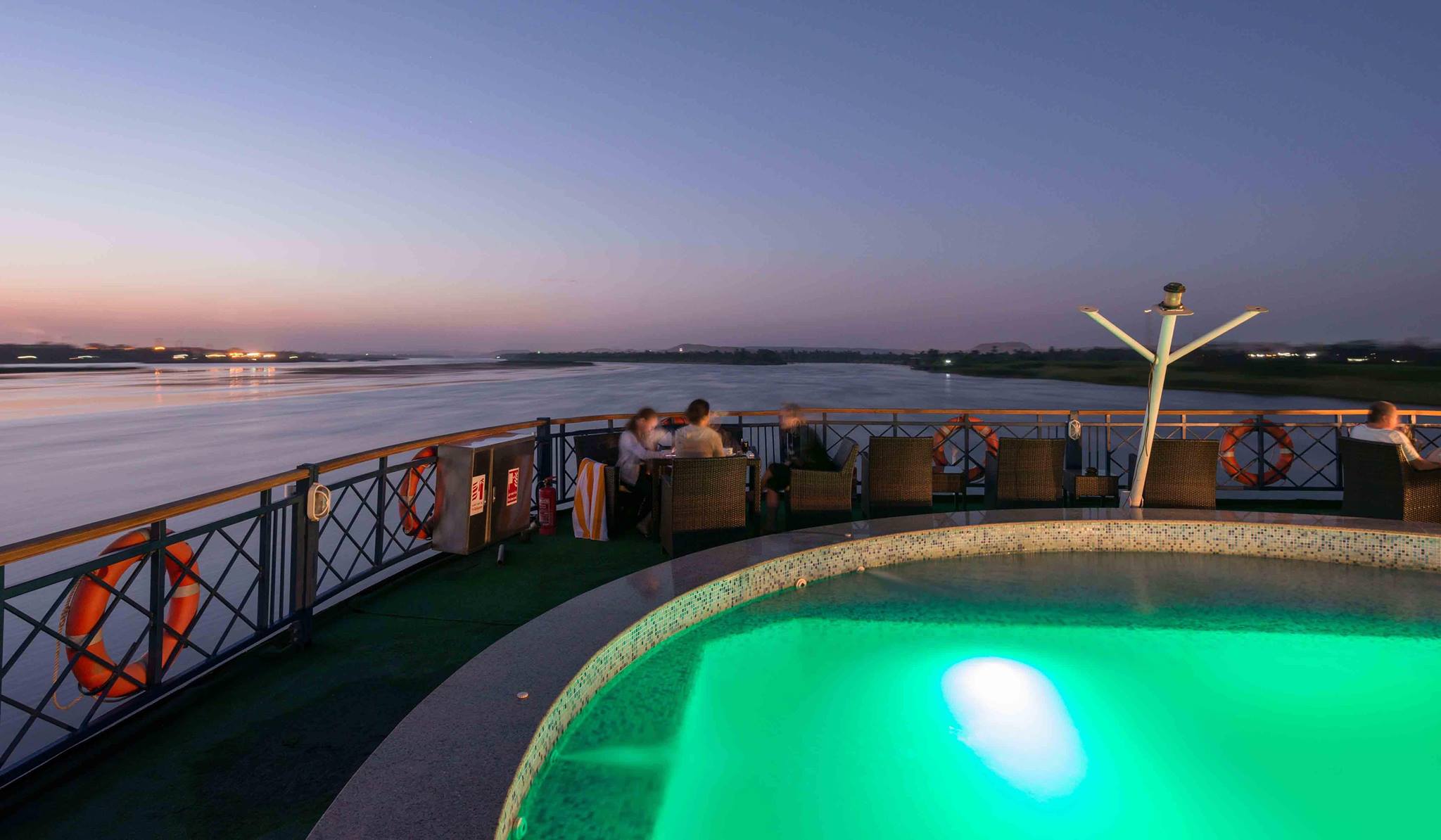 Later, if so inclined and with time available, guests may do some shopping before our evening visit to the famous Luxor Temple. This temple houses some of the most magnificent artifacts in Egypt. The many Statues of Ramses II display an incredibly precise geometry and symmetry that can be considered the hallmark of advanced manufacturing techniques.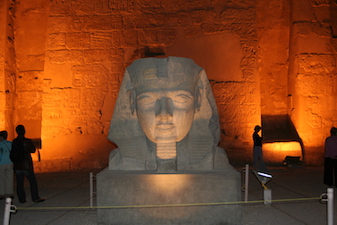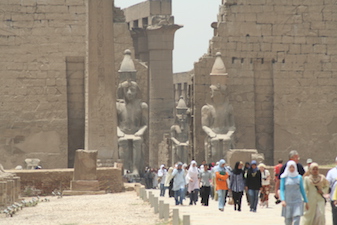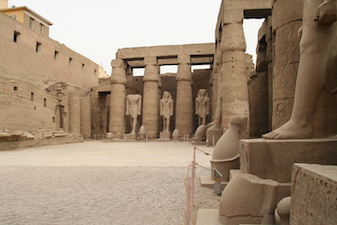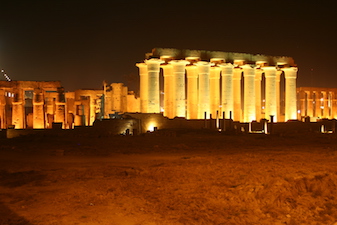 Overnight Esmerelda Nile Cruise Ship (B.L.D)
Day 10 (Tuesday, March 12, 2019)
Karnak Temple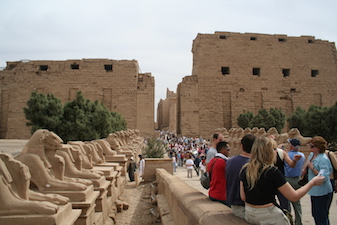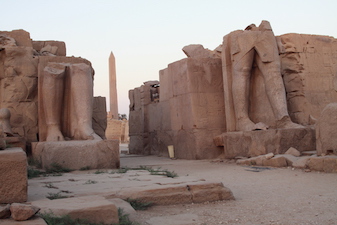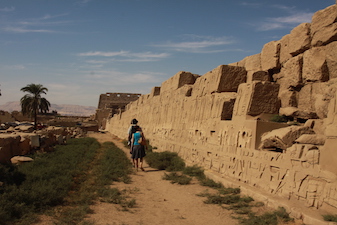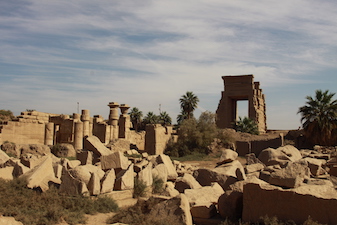 Today we will get an early start after breakfast and spend the entire morning at the Karnak Temple and see numerous Ramses II statues, as well as the "trunkless legs of stone", referred to by Greek historian Diodorus Siculus who quoted in his writings: .... "King of Kings Ozymandias am I. If any want to know how great I am and where I lie, let him outdo me in my work". There are many examples of ancient technology to be seen here as well as places that are rarely being visited by tourists, like The Open Air Museum. We will visit the unique Sekhmet Chapel that has been hailed by many who have visited as profoundly influencing and powerful. A usual highlight when visiting the Karnak Temple, is to experience the Musical Obelisk! Hear its ring for yourself and discuss the resident frequencies with Robert Vawter.
As a special treat, we will be joined by the Director of the Karnak Temple, Al Tayieb Ghareeb who will provide us with up to date information on the excavations and exciting discoveries being made around Luxor,
Following we will drive back to the cruise ship, cast off, and set sail on our Nile Cruise.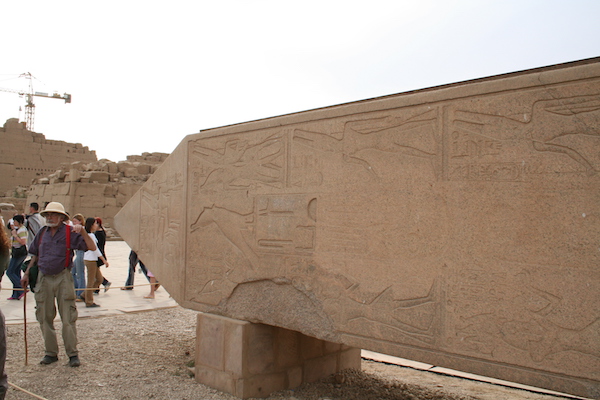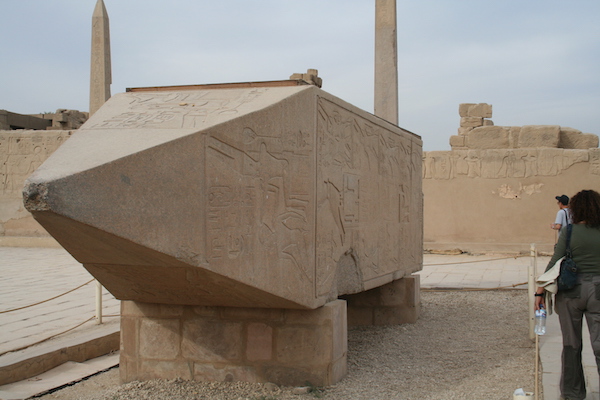 Overnight Esmerelda Nile Cruise Ship (B.L.D)
Day 11 (Wednesday, March 13, 2019)
Kom Ombo Temple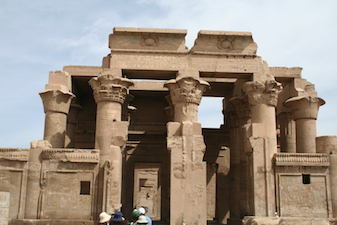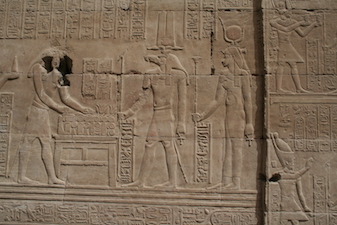 We will stop at Kom Ombo, where we'll visit the twin temples dedicated to the crocodile Neter, Sobek and Horus, the Elder. Crocodile mummies are on display in the Crocodile Museum nearby. Embark and set sail to Aswan.
Overnight Esmerelda Nile Cruise Ship (B.L.D)
Day 12 (Thursday, March 14, 2019)
Isis Temple at Philae and Unfinished Obelisk at Aswan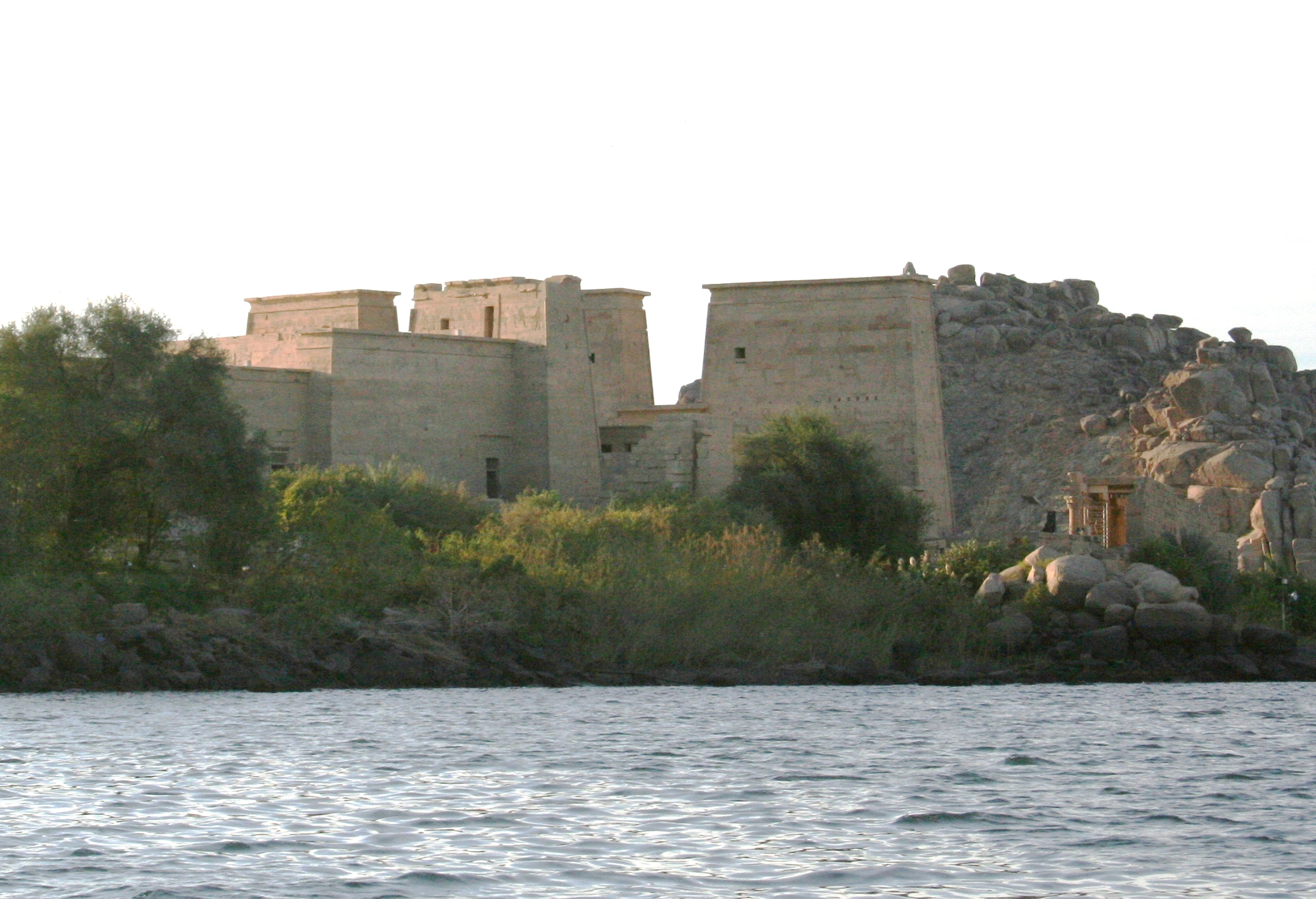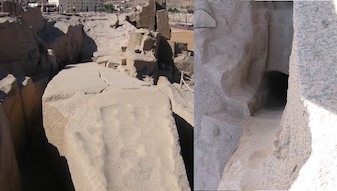 We will take a motorboat to the enchanting Island of Philae, after which we will explore the famous Aswan Quarry that is home to the 1,200 ton Unfinished Obelisk. Following this stimulating examination of evidence we will sail to the Nubian Village where we will have lunch. As on previous tours, an opportunity may arise on the way back for guests to have a dip in the Nile.
Overnight Esmerelda Nile Cruise Ship (B.L.D)
Day 13 (Friday, March 15, 2019)
Abu Simbel, Elephantine Island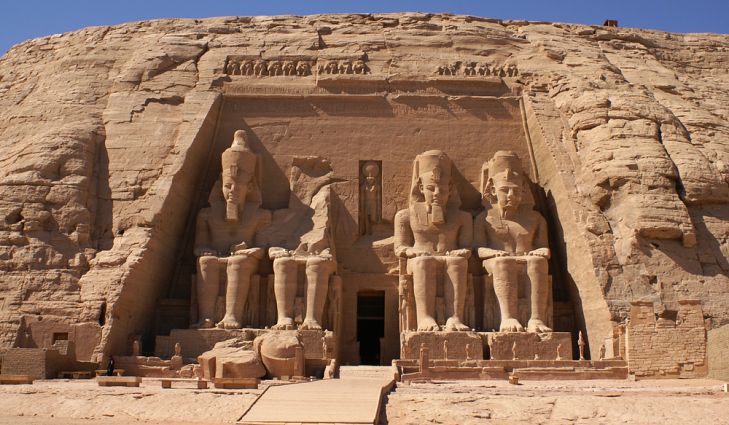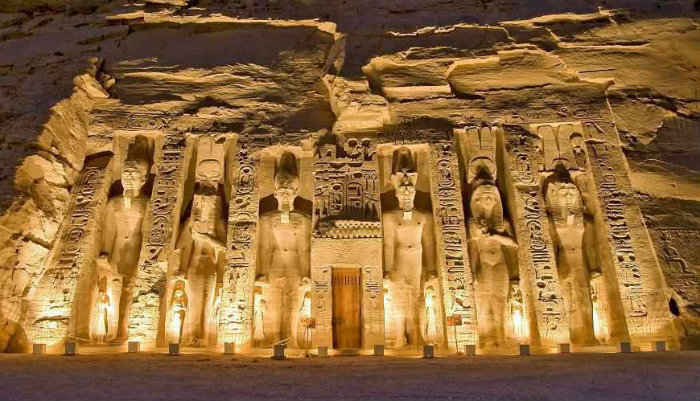 After an early breakfast, we will drive to the magnificent temples of Abu Simbel. Upon returning to Aswan we will take a motorboat to Elephantine Island. Elephantine Island has a fine example of brilliant ancient stone cutting. Though seemingly in disarray, as though forcefully moved from its original position, a shrine that is precision crafted out of a single block of Aswan Granite will grab your attention. Following our visits, we will check into the Helnan Hotel in Aswan.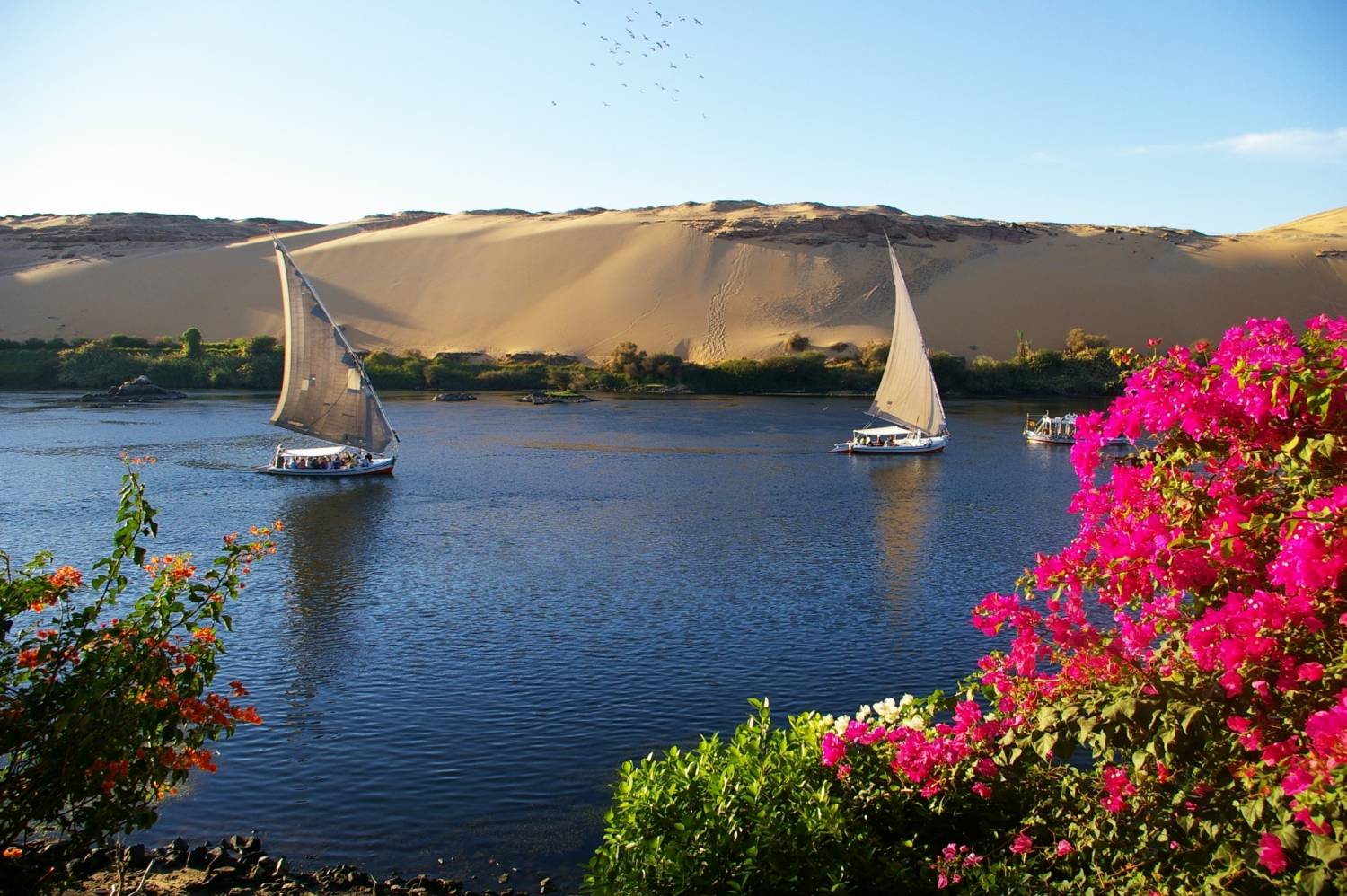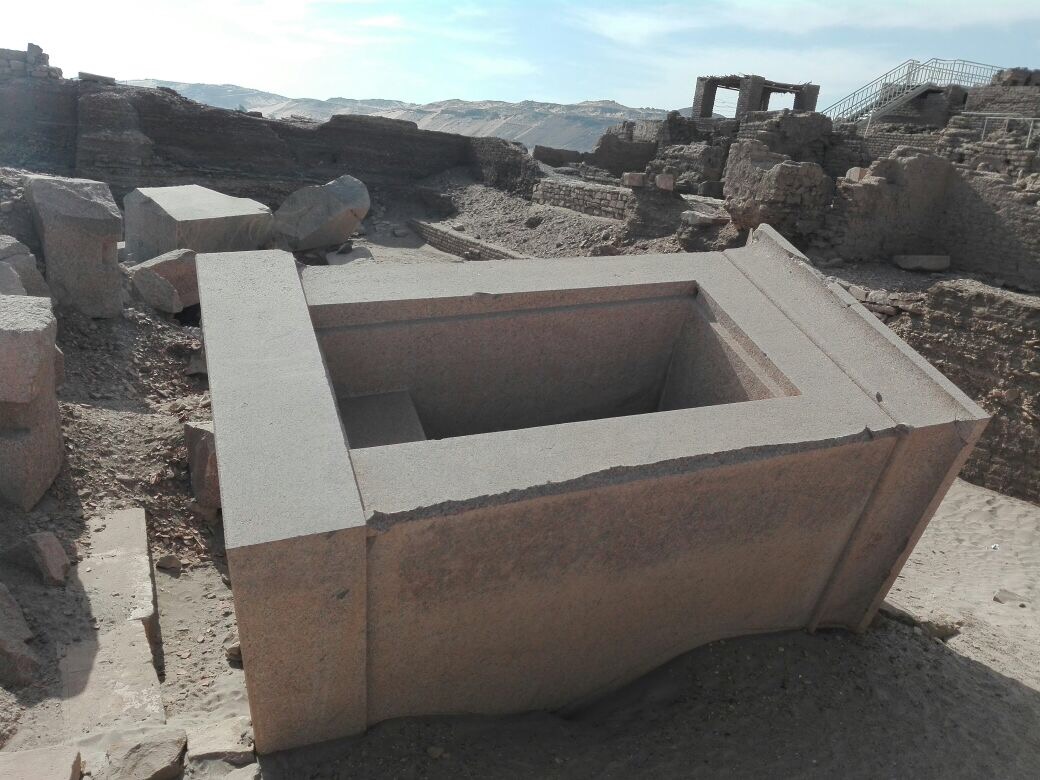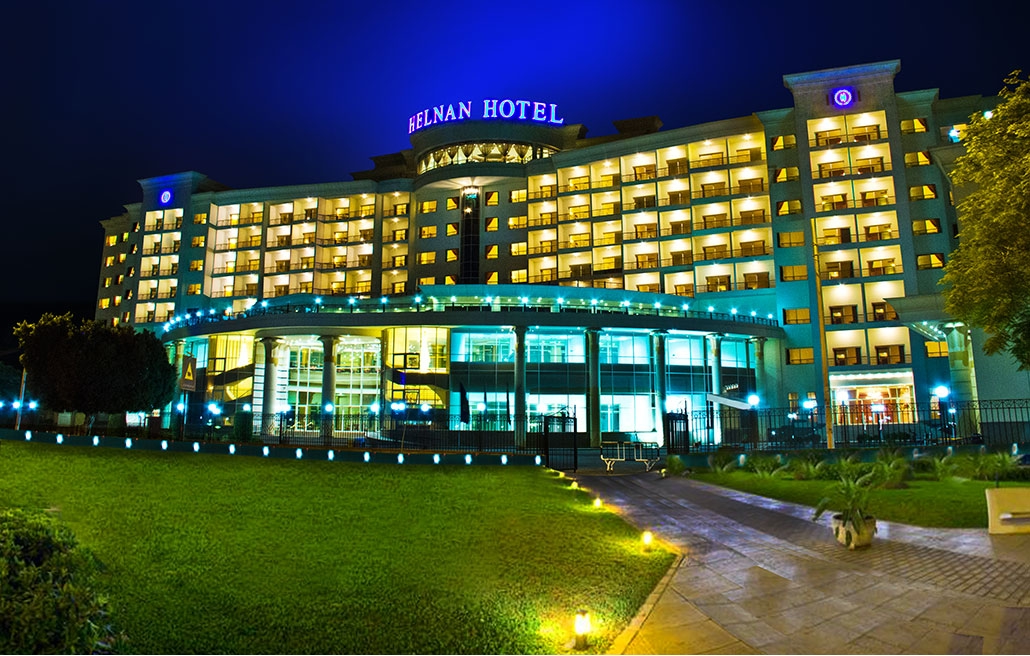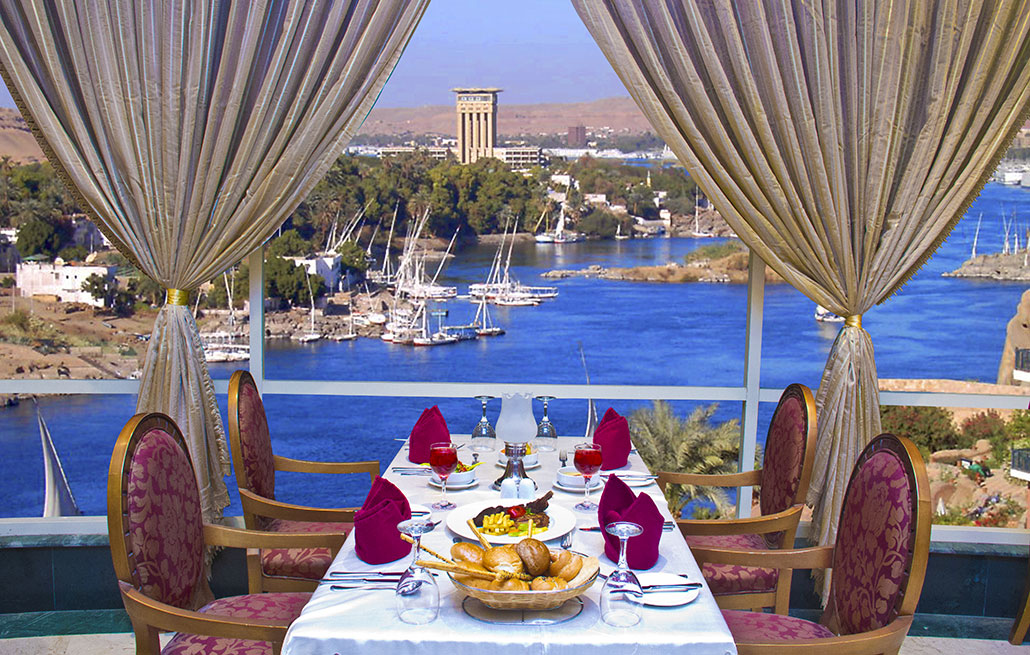 Overnight Helnan Hotel, Aswan (B)
Day 14 (Saturday, March 16, 2019)
Flight to Cairo and visit to the new Grand Egyptian Museum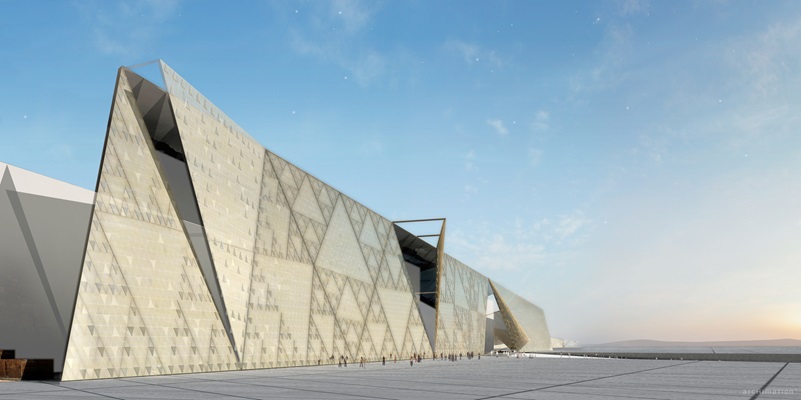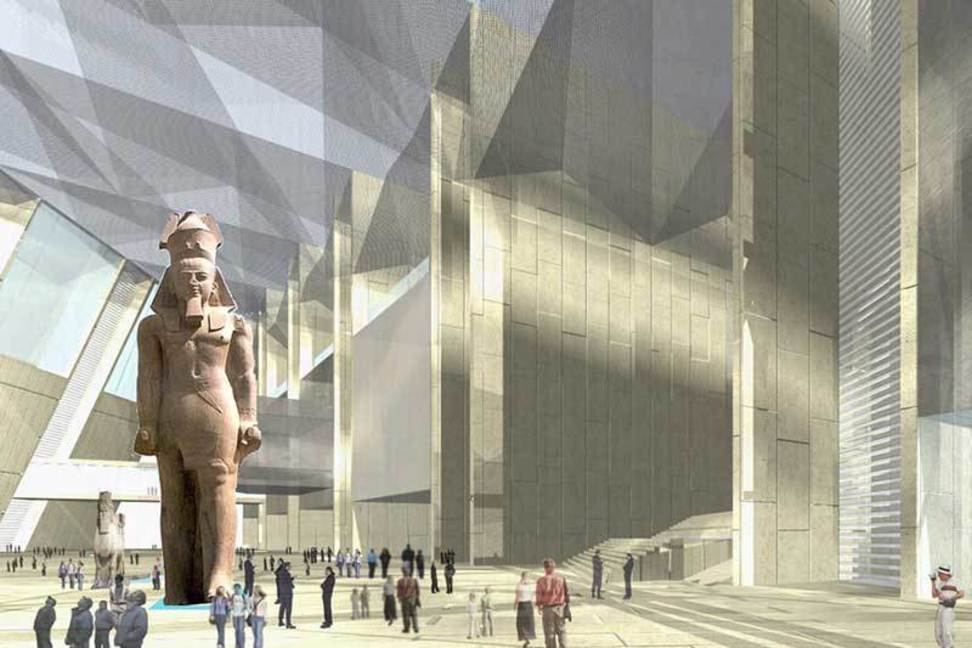 Following a morning flight to Cairo, we will visit the new Grand Egyptian Museum. Also known as The Giza Museum, the museum is almost four football fields in size and is envisaged as a cultural complex of activities devoted to Egyptology with a children's museum, conference and education facilities, a large conservation center and extensive gardens.
Following our visit we will check into the famous Mena House and settle in for the rest of the tour in a royal facility that was a favorite destination for King Farouk. There's nothing like an evening meal under the shadow of the Great Pyramid.
As his time allows, Hamed El Gendy will join us for the Cairo itinerary of the rest of our journey.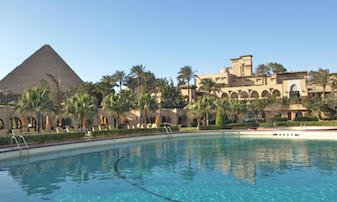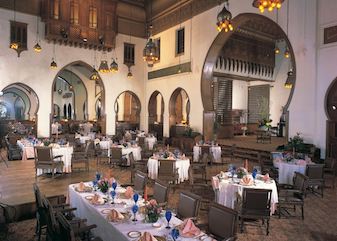 Overnight Marriot Mena House, Giza (B)
Day 15 (Sunday, March 17, 2019)
Abusir and Abu Ghorab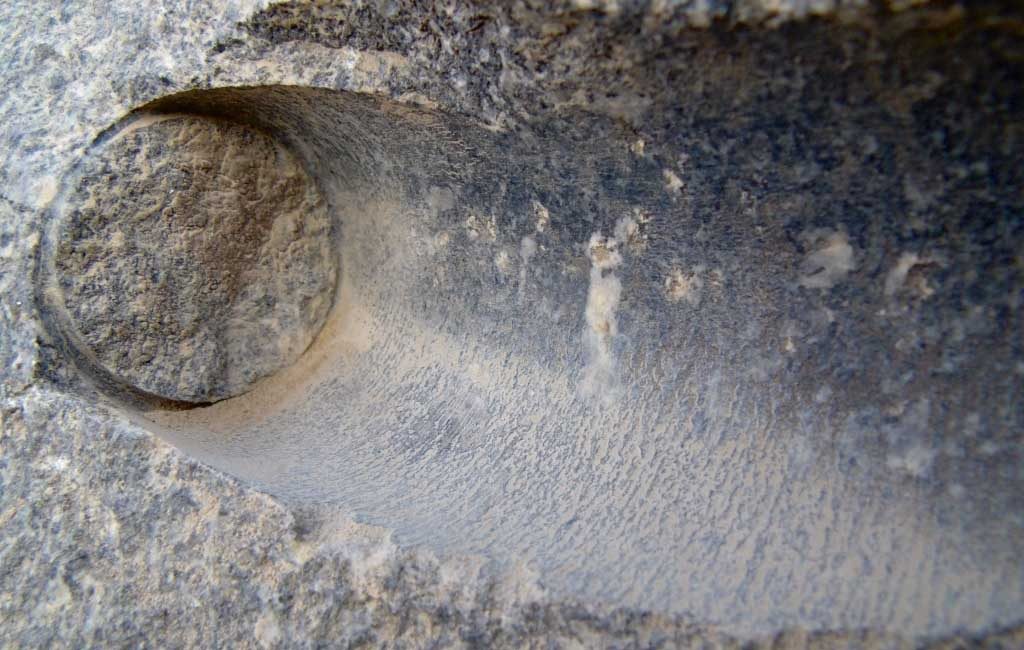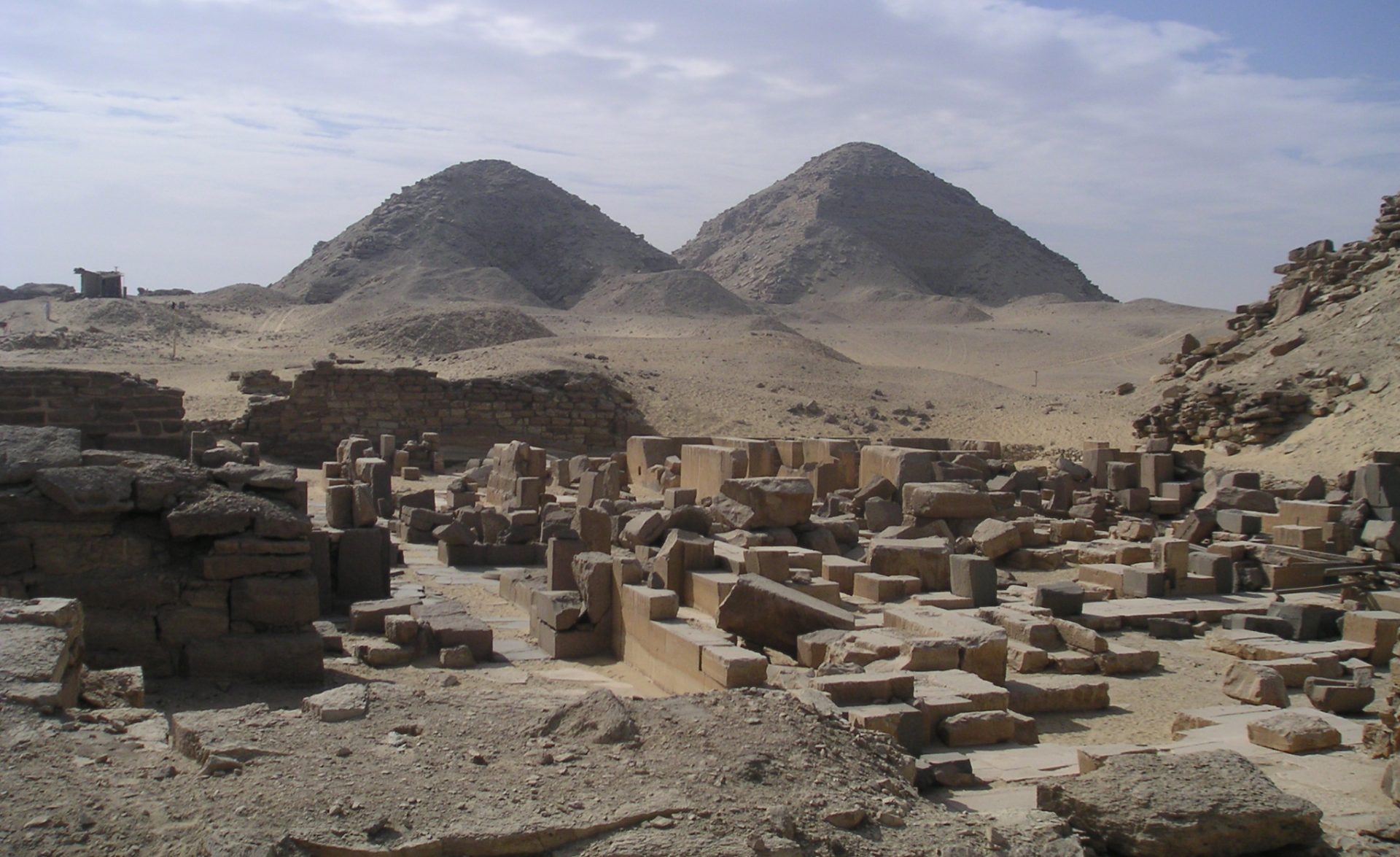 In the morning we have private permission to visit Abusir and Abu Ghorab. These sites are closed to the public, but we will have the privilege of visiting there where many amazing stone artifacts exist that display advanced machining techniques.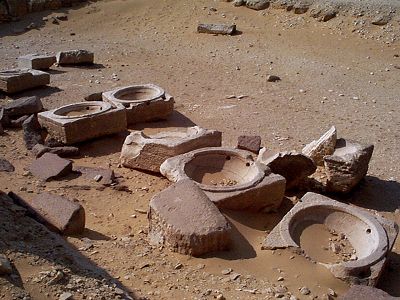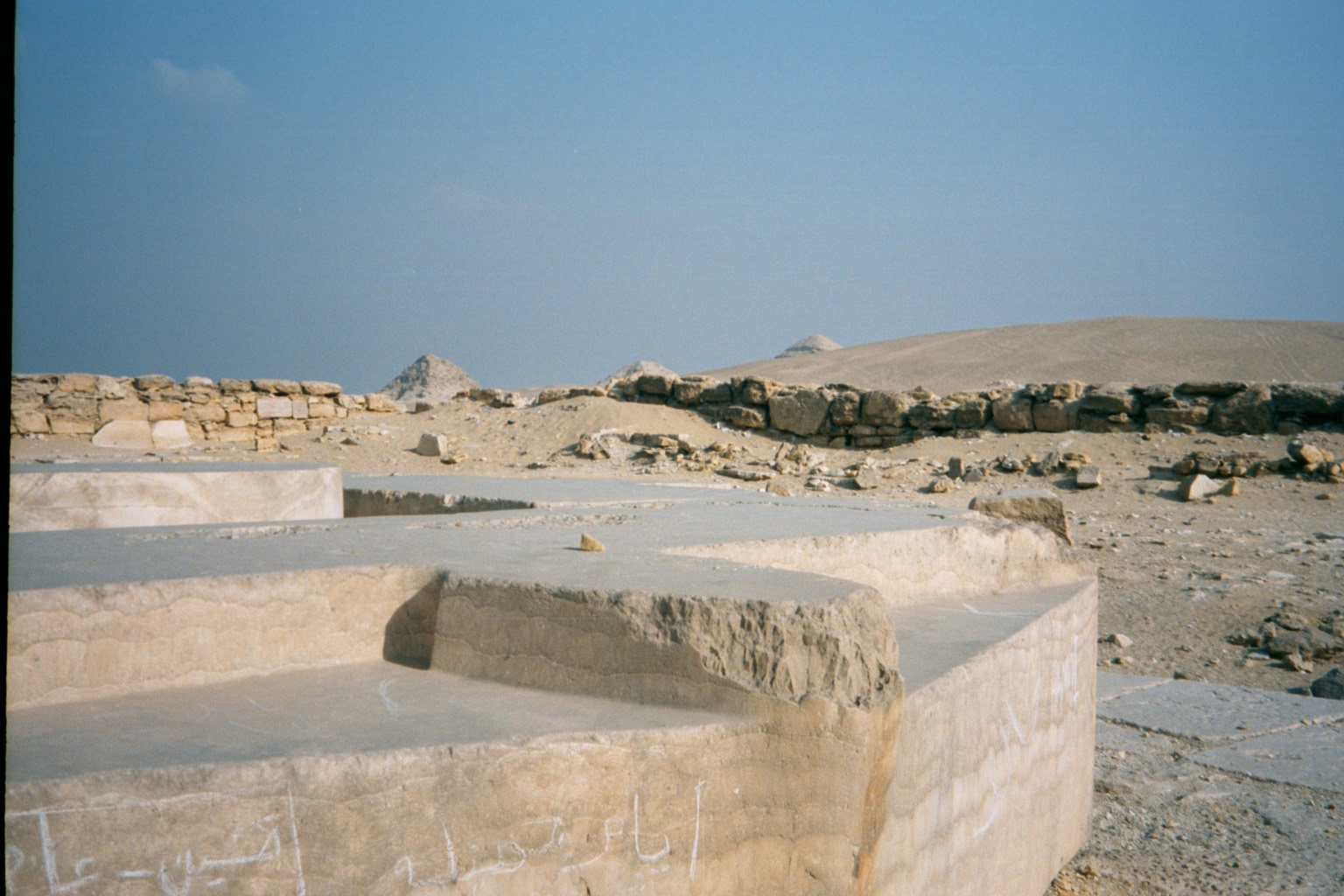 After lunch we will then visit the Giza Plateau, home of the Great Pyramid and Sphinx, Sphinx Temple and Valley Temple which includes exclusive private visit down the Osiris Shaft under the causeway. This incredibly mysterious site was featured in the "Opening of the Lost Tomb" in 2001.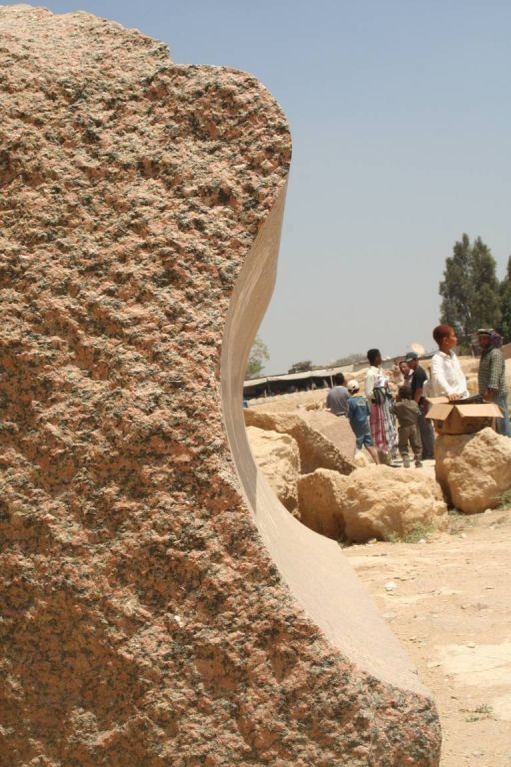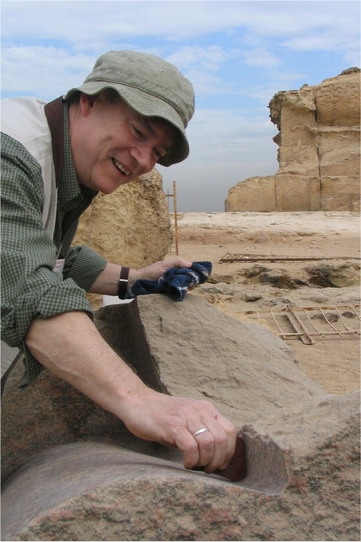 Then at 4:00 PM we will have a private visit inside the Great Pyramid, followed by a farewell dinner and group meeting.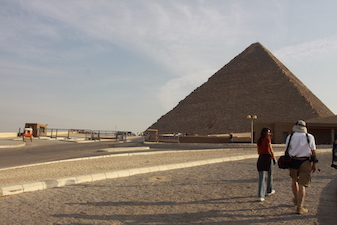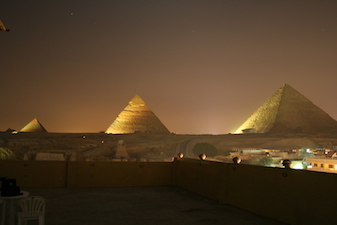 Overnight Marriot Mena House Hotel - Giza. (B.D)
Day 16 Cairo (Monday, March 18, 2019)
Cairo Airport -- Departure
Changes in Itinerary or services
This Itinerary is subject to changes in order to adapt to prevailing conditions, possible alterations in domestic flight times or other unforeseen circumstances. The content will remain the same, barring any unanticipated complications, and will include many delightful "extras" and surprises. Changes in accommodation will be of equal or increased value and quality.
TOUR COST
Price per person in double room (Sharing - Make request for room-mate if required.) $ 4,700 US ea.
Price for one person in single room (Private) $ 5,450 US
INCLUDES
Three nights at Le Meridien 5 star Giza (B.B)
One night The Alexandria Hotel Alexandria (B.B)
One night The House of Life Hotel Abydos (B.B)
One night The Steigenberger Hotel 5 star Luxor (B.B)
Four nights on Nile Cruise 5 star Luxor - Aswan (F.B)
One night The Helnan Hotel 5 star Aswan (B.B)
Four nights at the Mena House 5 star (B.B)
Domestic flights (CAI/LUX - ASW/CAI)
Meals mentioned in the itinerary (B breakfast, L lunch, D dinner)
Meet & assist at the airport
English speaking tour guide
Two bottles of water daily
Transportation to the mentioned sites by air conditioned tour bus
Entry tickets to the sites mentioned in the itinerary
Numerous lectures by Chris, Robert and Mohamed
EXCLUDES
International Flights
Entry Visa to Egypt
Travel Insurance
Laundry Service
Any other service or tour not mentioned in the itinerary
Bank account details for easy transfer of funds:
Account Name: Beauty Egypt Tours For Tourism
Bank Name: Commercial International Bank (Egypt) S.A.E.
Bank Address: Al Haram Branch, 126 Ahram Street 2430 Giza, Giza, Egypt
Account No. : 100032354518
Swift Code: CIBEEGCX102
Contact Information:
Tour Company: Beauty Egypt Tours For Tourism

Address : 20 B Old Pyramids Gardens, El Shams Buildings, behind Le Meridien Pyramids Hotel, Giza, Egypt

Tel. (+202) 33763124
Mobile. (+2) 01005803223 ( +2) 01115109996/ ‬ (+2) 01024496435
Email: losttechtouregypt@gmail.com or Mohamed Ibrahim
 Please add that the reason for sending is: Payment for attending a tour to Egypt in March 2019
We ask you to send a photocopy of your bank receipt for the transfer. Thank you!
TERMS & CONDITIONS
Reservation and Payment
A non-refundable Deposit of $500.00 per person will be required at the time of booking in order to hold your place on the tour. To ensure your reservation, final payment will be due 45 days prior to tour start. In the case of overbooking, preference will be given to those who make a final payment, or who are furthest along in the payment process. Exceptions to this critical requirement will depend on available space on the tour, which includes 1. total number of people, 2. ability to book flights for late bookings, and 3. ability to book rooms on cruise ship and hotels for late bookings. It is the responsibility of the traveler (or agent) to determine that final payment reaches us on time. No booking will be considered until final deposit is received by the Tour Operator. Payments are to be made via Bank Transfer, Western Union or a credit card. Any fees charged, will be the responsibility of the sender. Please inquire about this before you make your bank transaction. If space is available for late bookings, you can pay 50% of the price and pay the other 50% by Credit Card upon arrival to Egypt. When you send the deposit or any transfer to us, we will need a copy of the transaction so we can easily track it. Send it to Mohamed Ibrahim and to the tour email address: losttechtouregypt@gmail.com. Exceptions to these Reservation and Payment requirements will be considered on a case by case basis.
Insurance
We recommend that all participants obtain Travel Insurance from the travel agent of their choice to cover losses due to unforeseen circumstance. When selecting a policy that will make you whole, consider policies that include coverage for emergency assistance, death, medical expenses for injury, or illness with repatriation for you or a member of your family traveling with you, missed connections, lost deposits due to the financial default of the airline, the tour operator, or cruise line. Emergency circumstances that make it impossible for you to start your journey and participate in the tour, thereby resulting in losses related to plane tickets and tour payments.
Cancellation and Refunds
Due to high preparation costs and committments made on your behalf, Cancellations must be received in writing within 60 days of travel date. It is assumed that you will insure your trip, therefore, for your claim against losses with your insurance company, cancellations received more than 30 days prior to departure will have a penalty of $500 per Person; those received between 30 and 25 days will have a penalty of 50% of the full cost per Person; those received between 25 and 20 days will have a penalty of 75% per Person. Cancellations received 20 days or less before departure will receive no refund. No refund will be made for transfers, city tours or any other services (including meals, accommodations or transportation) voluntarily not taken. Exceptions to these Cancellation and Refund requirements will be considered on a case by case basis.
Health
It is recommended that travelers consult with their doctor and get an updated blood analysis. Because we will be spending time outside, a guest may become dehydrated, so it will be helpful for you to know that your sodium and other critical levels are not below normal before you travel. Vaccinations are normally not necessary, but consult with your personal physician or an official government website of your country that advises of such matters.
Passport and visas
Please make sure that your passport is up to date and will not expire before you leave Egypt. Consult your country's State Department website regarding passport and visa requirements.
You may obtain your entry Visa to Egypt at Cairo airport ($25.00), and will be assisted by our representative upon arrival.
Waiver of Responsibility
By signing up to the Tour you agree to our Terms, Deposit Conditions and Waiver.
Guide of Egypt & its agents and our Tour Facilitators have worked diligently to make all of the arrangements for our journey together in Egypt. However, Guide of Egypt & its agents and our Tour Facilitators will not be held liable for delays, theft, damage, injury, or any other irregularities that may occur during the course of the journey. We will not be held liable for any changes or delays in airline schedules or missed connections; injury, loss, or damage to persons or property; additional expenses resulting from changes in exchange rates, tariffs, or itinerary; any transportation issues or problems with vehicles utilized on the tour; additional expenses incurred due to illness, weather conditions, protests, war, terrorism, quarantine, or other causes; and losses due to cancellations not subject to our Terms and Conditions.
Contact Information
In order to receive the Registration Form, further details, or answers to any questions or concerns, email: losttechtouregypt@gmail.com or Mohamed Ibrahim
Alternatively, complete the following form and submit.
Required fields are marked with an asterisk*