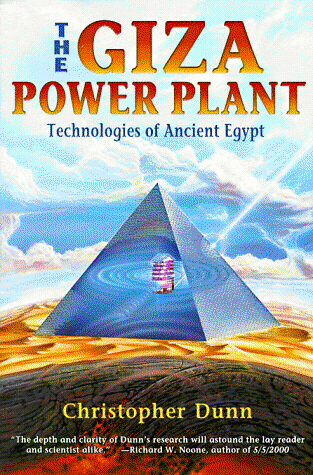 Endorsements
"Chris Dunn has provided us a valuable addition to the growing body of knowledge concerning the recovery of Ancient Wisdom. This is the most important book concerning the Great Pyramid written in the last twenty years."
-Stephen S. Mehler, M.A., Director of Research, Kinnaman Foundation
"First West and Schoch redate the Sphinx, then Bauval finds Orion in the Pyramids. Now Dunn Demonstrates that Egyptian artifacts were machined out of stone. Egyptology will never be the same!"
-Jeffry D. Kooistra, Analog Science Fiction and Fact Magazine
"Chris Dunn ranks among the top researchers in this subject. His book is extremely well researched and presented and, although very controversial in content and conclusions, will no doubt become a landmark and classic in the field of pyramid studies. Dunn deserves the recognition and respect he is bound to receive for his tenacity, his meticulous presentation and, above all, his daring and innovative ideas."
-Robert G. Bauval, coauthor of The Orion Mystery
"None of the previous theories regarding the purpose of the Great Pyramid really explain the known facts. From the tombs for the pharaohs, to markers for astrology, every explanation, thus far, has failed to account satisfactorily for at least some aspect of the physical evidence. Christopher Dunn, however, has looked squarely at all available research and provided a truly convincing and scientific, albeit revolutionary, explanation in The Giza Power Plant."
-Douglas Kenjoyn, editor of Atlantis Rising
"The depth and clarity of Dunn's research will astound the lay reader and scientist alike."
-Richard W. Noone, author of 5/5/2000